Are you tired of sitting in an uncomfortable office chair that makes work unbearable?
Choosing the right office chair can be a game-changer for your productivity, health, and overall well-being. In the dynamic landscape of office furniture, where comfort and style converge, it's crucial to identify the best office chair companies.
With the ever-expanding global market, there are a multitude of office chair manufacturers worldwide, each offering different styles, features, and quality levels. It can be overwhelming to know where to start when there are so many options available from different office chair suppliers.
This article will discuss the top 15 office chair manufacturers in the world. We will look at their main features, specialties, and accomplishments. These manufacturers are known for their dedication to creating comfortable and efficient products. Their innovative designs and high standards have made them trailblazers who shape the industry.
If you are a business owner, importer, or retailer, this guide will help you make a well-informed decision to create the ideal workspace for you and your team.
Let's dig in and check out some of the top names in office chair manufacturing that can enhance your office space.
List of Top 15 Office Chair Manufacturers in The World
Here is a list of the best-personalized office furniture manufacturers in the world. These office furniture companies are known for their skill in creating outstanding office chairs.
We considered many important factors when choosing the items for this prestigious list. These factors included making sure the products were of high quality, had positive reviews from users, were durable, could be conveniently delivered to offices, and had excellent after-sales services.
These amazing manufacturers are fully dedicated to making sure all customers are extremely satisfied. They go above and beyond to make sure every office chair is even better than expected.
Here are our top 15 Office Chair Manufacturers:
Vaseat
SteelCase
Herman Miller
Haworth Inc.
HNI Corporation
La-z-Boy
KNOLL
Global Furniture Group
Okamura Corporation
KOKUYO
Urban Office
MerryFair
Kimball
Teknion
Lamex
Now, let's take a look at this impressive list one by one to see what makes them the best in their field.
1.Vaseat
Established Since: 2007
Headquarters: Guangzhou, China
When it comes to reliable and high-quality office chair manufacturers, Vaseat stands out from the crowd. That is why we placed it on the 1st on our list.
With 17 years of experience, Vaseat has established itself as a leading office chair manufacturer and supplier. They offer professional custom office chair services at competitive prices, catering to wholesalers, brand owners, engineers, retailers, and importers alike. Vaseat's commitment to customer satisfaction and its one-stop service approach makes them a go-to choice for office chair solutions.
Don't just take our word for it, visit the Vaseat office chair factory to explore their wide range of office chair options. With their extensive knowledge and expertise, Vaseat ensures that your business office area is designed with utmost precision and suitability.
Vaseat's ergonomic office chairs are designed to provide you with a comfortable and ergonomic seating solution. They prioritize the well-being and satisfaction of their customers, ensuring that their chairs adhere to the highest ergonomic standards. Vaseat's commitment to durability means that their chairs are built to last, offering you long-term investment in your workspace.
What sets Vaseat apart is their dedication to customer satisfaction and their use of innovative technologies and materials. Vaseat integrates modern design concepts with advanced features such as adjustable lumbar support, breathable mesh backrests, and multi-functional controls, enhancing both productivity and comfort.
Other Products Offered:
2. SteelCase
Established Since: 1912
Headquarters: Grand Rapids, Michigan, USA
Steelcase is a highly regarded American company that makes furniture for businesses. It has been around for over 100 years since it was started in 1912 in Grand Rapids, Michigan. Steelcase is a well-known office chair manufacturer that is ranked second on our list of the best in the world for 2023. They are known for being the largest global provider of office furniture and have operations and facilities in many different parts of the world.
Steelcase is a company that focuses on meeting the specific needs of office environments, with a particular emphasis on serving the tech industry. They have a presence in over 80 locations.
Steelcase chairs are well-known for being durable, expertly crafted, and featuring innovative designs. They incorporate technology smoothly, providing features such as armrests that can be adjusted, support for the lower back, and personalized settings for comfort.
Other Products Offered:
Systems Storage
Modular Walls
Education Desks + Tables
Healthcare Seating
3. Herman Miller

Established Since: 1905
Headquarters: Zeeland, Michigan, USA
Herman Miller is an American office furniture manufacturer that has been around for over a hundred years. They are well-known for their innovative and user-friendly designs.
Herman Miller is a well-known commercial manufacturer that is famous for its iconic products like the Aeron chair and Eames Lounge Chair. They are highly regarded in the industry. The Mesh chairs are known for their ergonomic design, which focuses on making users comfortable by encouraging good posture and offering customizable adjustments.
Moreover, the company is committed to sustainability by using recycled and recyclable materials in its chairs. They are also actively working to reduce their carbon footprint.
Businesses and individuals who want high-quality seating options often choose them because of their excellent reputation and legacy.
Other Products Offered:
Lighting
Desk Accessories
Workstations and Desks
Storage Solutions
4. Haworth Inc.
Established Since: 1948
Headquarters: Holland, Michigan
Haworth Inc was established in 1948 and has been creating furniture that meets the needs of its customers ever since. Haworth, a company based in Holland, Michigan, believes in making attractive spaces that motivate people and businesses to do their best.
Haworth is a brand that focuses a lot on innovation. They have launched several chairs with unique patented technology, such as the Zody Chair, which cannot be found anywhere else. The Zody Chair is the only chair that professional physical therapists worldwide have endorsed.
Haworth considers both comfort and practicality. They have a range of office chairs that are designed to be space-saving while still providing comfort. Every chair design focuses on making sure that users can work comfortably and efficiently by prioritizing comfort and functionality.
In addition, Haworth Inc is known for its commitment to the environment. The company is taking steps to reduce waste and save energy in its manufacturing processes. Additionally, many of its products can be recycled or repurposed when they are no longer needed.
Other Products Offered:
Conference Chairs
Stools
Cupboards & Bookshelves
Accessories and Lightning
5. HNI Corporation
Established Since: 1944
Headquarters: Iowa, United States of America
HNI Corporation is a well-known office furniture manufacturer located in Muscatine, Iowa. It was established in 1944. The company uses technology and skilled craftsmanship to make high-quality office chairs that are both stylish and comfortable.
HNI Corporation is now one of the biggest office furniture manufacturers globally. They have a range of brands under their portfolio, including HON, Allsteel, Gunlocke, Paoli, and HBF. HNI Corporation offers a wide variety of products for different types of workplaces. They have ergonomic task chairs and luxurious executive seating options.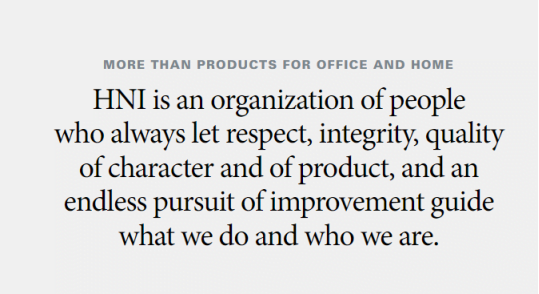 HNI is known for its strong focus on sustainability and wellness in the workplace. Their products meet strict indoor air quality standards and contribute to LEED credits, showing their commitment to the environment.
In addition, the company cares about making customers satisfied. They offer helpful services after a sale, like warranties and responsive customer support.
Other Products Offered:
Workplace Furnishings
Lounge Chairs
Dining Tables
6. La-Z-Boy

Established Since: 1927
Headquarters: Monroe, Michigan, USA
La-z-Boy is a well-known furniture brand that has been around since 1927. They are known for making comfortable and cozy furniture that people love to have in their homes. La-z-Boy is a company based in Monroe, Michigan. They first became well-known for their recliners and later expanded their range of products to include office chairs and other types of furniture.
Even though La-z-Boy started by making furniture for homes, they have shown that their skill in making furniture works well in offices too. The office chairs they offer are famous for being extremely comfortable, made with top-notch materials, and built to last. They provide chairs that are both comfortable and durable, offering a special combination of comfort, quality, and value.
La-z-Boy stands out for its great customer service and warranty policies. They offer protection against defects in materials and workmanship. They are known worldwide for their dedication to making customers happy, which has earned them a loyal following.
Other Products Offered:
Kitchen and Dining Furniture
Ottomans
Recliners
7. KNOLL
Established Since: 1938
Headquarters: East Greenville, Pennsylvania, USA
KNOLL is a well-known furniture brand that has been around since 1938. It was first established in Pennsylvania and has gained international recognition over the years. KNOLL is known for its modern style. They focus on combining both looks and usefulness in their designs. They offer office chairs and furniture that are not only nice to look at, but also comfortable and practical.
KNOLL has stayed at the forefront of cutting-edge design by partnering with famous designers like Eero Saarinen and Ludwig Mies van der Rohe. The company can provide a wide selection of office chairs that are well-designed and high-quality. These chairs are suitable for different work environments, such as executive offices, conference rooms, and regular workstations. They prioritize both comfort and ergonomics.
KNOLL is strongly committed to sustainability. They invest in research and development to make their products and manufacturing processes more environmentally friendly. KNOLL's products have the Greenguard Indoor Air Quality certification, which shows that they are working to reduce indoor air pollution.
Other Products Offered:
Storage Solutions
Office systems
Tables
8. Global Furniture Group
Established Since: 1966
Headquarters: Ontario, Canada
Global Furniture Group is a company from Canada that started in 1966. They are well-known for offering top-notch furniture solutions that are both functional and visually appealing for workspaces. The company focuses on making the workplace better and taking care of employees, which makes them a great option for organizations that want to improve their office environment.
Global Furniture Group produces office chairs that are known for their exceptional craftsmanship, ergonomic design, and high-quality materials. They have a wide range of products to meet different needs. This includes comfortable task chairs, stylish executive chairs, and modern guest seating. The brand always works hard to create new designs that match current interior trends and improve the user experience.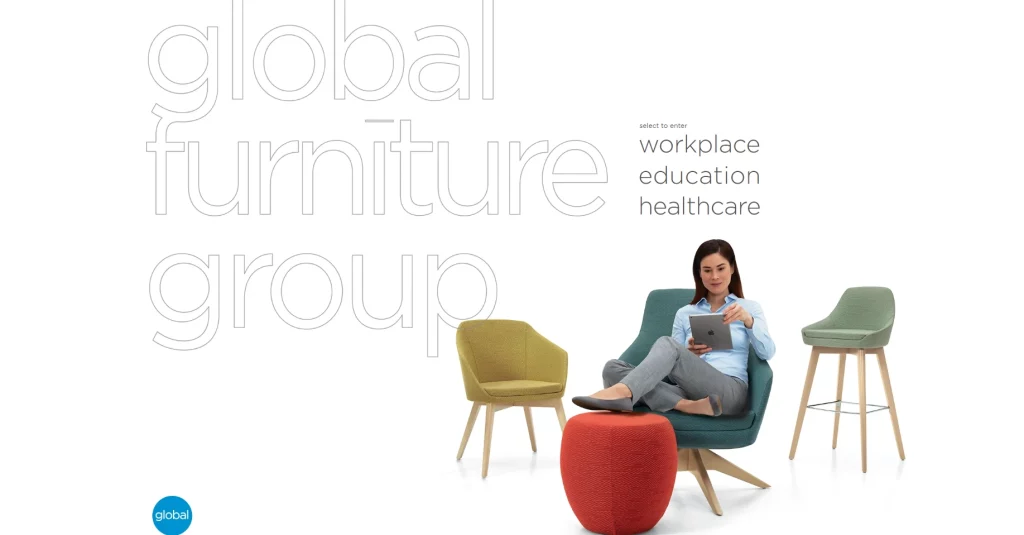 Global Furniture Group is dedicated to sustainability. They prioritize using environmentally responsible materials and techniques in their manufacturing processes. The company has received many certifications and awards for sustainability, such as ISO 14001 and Greenguard certifications.
Other Products Offered:
Education Seating
Healthcare Seating
Lab Seating + Stools
9. Okamura Corporation

Established Since: 1945
Headquarters: Tokyo, Japan
Okamura Corporation is a Japanese manufacturer that was established in 1945. They have a long history of being known for their exceptional engineering and craftsmanship. Okamura Corporation is known globally for their creative and carefully crafted office chairs. They are highly regarded for their dedication to ensuring employee comfort, health, and productivity through smart design.
The Contessa chair is a popular product from Okamura. It is an office chair that looks nice and has many ergonomic features for support and comfort. The company also offers other products like the Baron, Sabrina, and Leopard chairs. These chairs are visually appealing and designed with scientific precision, reflecting the brand's commitment to combining style and practicality.
Other Products Offered:
Workspaces
Tables
Accessories and Collaborative
10. KOKUYO
Established Since: 1905
Headquarters: Osaka, Japan
KOKUYO is a Japanese company that was established in 1905. They are known for their innovative solutions and high-quality design. KOKUYO started out selling stationery, but over time, they have grown their business to include a wide variety of office products and furniture.
KOKUYO's office chair collections are known for their simple and functional designs. They are well-known for being designed with ergonomics in mind. They are carefully made to prioritize comfort, posture, and how users move, all of which can greatly affect productivity.
KOKUYO products are well-known for their excellent craftsmanship and innovative design. They are designed to provide a comfortable experience that suits various body shapes and work styles. The design philosophy is all about "360-degree gliding." This means that the seat and backrest move with the user, providing constant support and comfort.
Other Products Offered:
Office Supplies
Bags and Cases
Writing Instruments
11. Urban Office
Established Since: 2005
Headquarters: United Kingdom
Urban Office is a company based in the UK. It was founded in 2002 and is well-known for creating ergonomic office furniture that enhances and supports the modern work environment. Urban Office works with designers and manufacturers from all over the world to provide a wide range of Office Chairs. These chairs are designed to be stylish, functional, and comfortable.
Urban Office offers a selection of office chairs that are specifically designed for the modern workplace. These chairs are made with high-quality materials and are ergonomically designed to provide comfort and support. They are suitable for a wide range of tasks and settings. They have a collection of modern and comfortable chairs for different purposes, such as working at a desk, being in a meeting, or attending a conference. These chairs are designed to provide comfort and support, making work experiences better.
Other Products Offered:
Office Pods
Tables and Desks
Task Chairs
12. MerryFair
Established Since: 1974
Headquarters: Malaysia
Since its founding in 1974, when it specialized in the production of furniture components, MerryFair has grown to become a major force in Malaysia's office furniture market. The business has grown to become a major exporter and maker of office furniture in the country.
MerryFair is always adopting new technologies to improve its production procedures because of its dedication to innovation. The business uses cutting-edge technologies to boost the productivity and quality of its furniture manufacturing. In addition, MerryFair prioritizes consumer happiness by catering to each individual's wants and needs.
MerryFair only uses high-quality materials in the construction of its furniture. The company's office furniture is guaranteed to survive for years to come since only the highest quality materials are used in its construction.
Other Products Offered:
Seating Products
System Furniture
Desking Elements
13. Kimball International

Established Since: 1939
Headquarters: Indiana, United States of America
Kimball International is an industry-leading provider of office, healthcare, and hotel furnishings through all channels. Kimball International makes furniture that is both aesthetically pleasing and very durable because of the company's extensive knowledge of the design and manufacturing sectors. The organization, with headquarters in Jasper, Indiana, has been providing cutting-edge, tailor-made solutions to the workplace for over seven decades.
Kimball International has a long history of producing high-quality furniture because of their dedication to both workmanship and design. Their ability to provide customized services that meet each customer's requirements and preferences is proof of their dedication to customer satisfaction.
Kimball International has become a leading producer of commercial furniture by combining its knowledge, imagination, and commitment to quality. Their products improve workplaces and customer experiences in a wide variety of sectors.
Other Products Offered:
Healthcare Seating
Storage Systems
Space Dividers
14. Teknion
Established Since: 1981
Headquarters: Canada
Teknion is a well-known company that makes office furniture. They have been in business since 1981 and have customers all over the world. Teknion is a company based in Toronto, Canada. They are known for designing and making furniture that is both practical and attractive. Their furniture is made with care and can be used in many different types of workspaces.
Teknion's office chair collection is designed to be visually striking and ergonomically advanced. It provides users with both comfort and style. They are famous for their designs like the Contessa chair and the Sabrina chair. These chairs are innovative and have advanced features and materials that help users sit in a comfortable and adjustable position.
Teknion stands behind the durability and reliability of its chairs with a lifetime guarantee.
Other Products Offered:
Storage
Lockers
Work Tables
15. Lamex
Established Since: 1977
Headquarters: China
Lamex is an innovative Asian company that now sells its office chairs all over the world. Lamex, which has one of the world's most cutting-edge factories, is widely recognized as the gold standard in the office chair industry. Lamex's chairs are built to last with the help of cutting-edge technology and a team of talented workers that are committed to excellence.
Lamex employs sophisticated testing infrastructure to maintain product excellence and release only the highest quality options to consumers. Their dedication to quality control has allowed them to maintain their stellar reputation throughout the years.
Lamex provides more than just office furniture; we also have several additional services and products available. They offer a variety of services for the office, including storage, desks, decor, and advice. Lamex can meet the demands of a wide range of customers in the office furniture market because of its all-encompassing strategy, which enables it to offer comprehensive solutions for the design of productive and motivating workplaces.
Other Products Offered:
Sofas
Lounge Furniture
Stools
Wrapping it Up!
As more and more people spend their workdays sitting at a desk, the quality of your office chair can greatly affect how comfortable and productive you are. Our list provides a complete view of the top office furniture manufacturers who are well-known for producing high-quality products.
Keep in mind that an office chair is more than just furniture. It's a tool that affects your workday, your health, and how productive you are.
Make sure that you invest in the correct one.